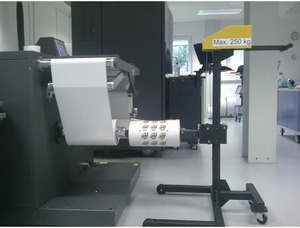 The Flexi Roll Lift 800L had its inauguration during the Label Expo 2009 in Brussels. With over 60 units sold world wide it found itself working in various environments.
The Flexi Roll Lift 800L is the perfect companion for your HP Indigo printing press to make roll handling around the press easier and safer. It allows your operator to remove the rolls quickly and without the danger of damaging them from the machine onto the finishing equipment.
This makes roll movement quicker, easier and safer. For more info contact us at any time.